Emmys: "Game of Thrones" legt bei den Creative Arts Emmys vor
HBO behält die Nase vor Netflix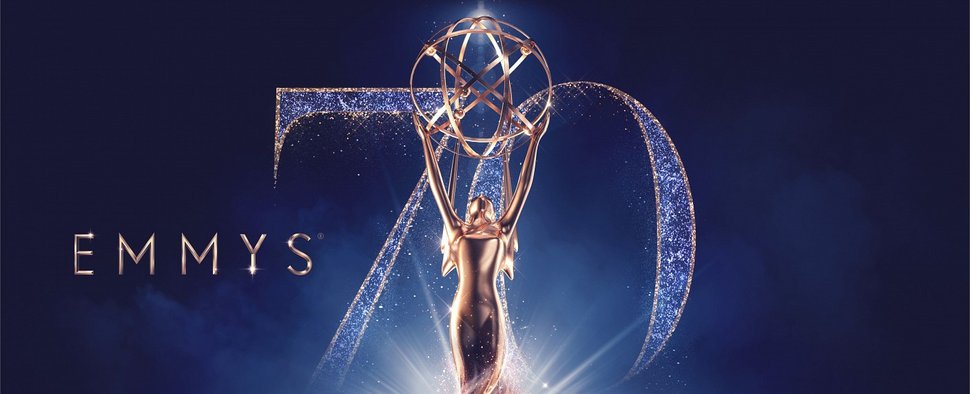 Am Samstag- und Sonntagabend wurden in Los Angeles die Creative Arts Emmys der 70. Primetime Emmy Awards verliehen – die "eher technischen" Emmy-Kategorien. Die große, im Fernsehen übertragene Gala folgt in diesem Jahr am 17. September, in der Nacht vom Montag auf Dienstag, und wird im deutschsprachigen Raum von TNT Serie übertragen (fernsehserien.de berichtete).
Im Rennen der beiden großen Kontrahenten konnte sich bisher HBO mit 17 Auszeichnungen gegen Netflix (16 Emmys) durchsetzen, welches in diesem Jahr zum ersten Mal die meisten Nominierungen erhalten hatte (fernsehserien.de berichtete). Gemäß der "Taktik" beider Sender verteilen sich die Auszeichnung unterschiedlich: HBO überzeugte mit "Game of Thrones", das mit sieben weiteren Auszeichnungen zu den bisherigen Top-Gewinnern der Emmys 2018 gehört. Dazu kommen Emmys für "Last Week Tonight with John Oliver" und "Westworld". Netflix erzielte "schrotschussartig" für mehrere Formate bis zu maximal drei Auszeichnungen: "The Crown", "USS Callister" aus "Black Mirror", "GLOW" sowie "Queer Eye".
NBC konnte sich mit zahlreichen Auszeichnungen für "Saturday Night Live" wie gewohnt in der Senderrangliste weit oben platzieren. Hinzu kamen in diesem Jahr auch noch viele Emmys für das Musical "Jesus Christ Superstar Live in Concert", das der kürzlich verstorbene und sehr beliebte Produzent Craig Zadan betreut hatte. Ebenfalls posthum geehrt wurde Anthony Bourdain (fernsehserien.de berichtete), dessen "Parts Unknown" (hierzulande "Kulinarische Abenteuer") es in diesem Jahr auf 5 Emmys für CNN brachte (bei insgesamt 6 Nominierungen).
Für die zunehmende diverse Repräsentation im US-Fernsehen ein bemerkenswertes Zeichen ist, dass alle vier "Gastdarsteller"-Emmys an People of Color gingen: Tiffany Haddish ("SNL"), Katt Williams ("Atlanta"), Samira Wiley ("The Handmaid's Tale") und Ron Cephas Jones ("This Is Us") können sich über die Auszeichnungen freuen.
Der beste neue Vorspann stammt nach Ansicht der Emmy-Juroren aus "Counterpart", weitere Auszeichnungen erhielten die Stunt-Crews von "GLOW" und "Game of Thrones". "Marvelous Mrs. Maisel"-Darstellerin Alex Borstein wurde bereits als Sprecherin bei "Family Guy" geehrt, kommenden Montag ist sie dann noch in der "Nebendarsteller"-Kategorie im Rennen.
VH-1 kann sich dank "RuPaul's Drag Race" über vier Emmys freuen, während Hulu ("The Handmaid's Tale") und Prime Video ("The Marvelous Mrs. Maisel") trotz ihrer Aushängeschilder eher kleine Brötchen backen müssen, während sich NatGeo vor allem Dank der Picasso-Staffel von "Genius" und der Doku "Jane" (über Primatenforscherin Jane Goodall) über ein sehr gutes Ergebnis freuen kann.
Rangliste der erfolgreichsten Sender:
HBO – 17
Netflix – 16
NBC – 15
CNN – 8
FX Networks – 7
National Geographic – 5
Hulu – 4
VH1 – 4
FOX – 3
Prime Video – 3
Adult Swim – 2
Cartoon Network – 2
CBS – 2
Starz – 2
Apple Music – 1
BBC America – 1
Comedy Central – 1
Disney Channel – 1
Nickelodeon – 1
PBS – 1
TBS – 1
TNT – 1
Vimeo – 1
YouTube – 1
Formate mit mehreren Emmys
"Game of Thrones" – 7
"Saturday Night Live" – 7
"Anthony Bourdain: Parts Unknown" – 5
"Jesus Christ Superstar Live In Concert" – 5
"RuPaul's Drag Race" – 4
"The Assassination Of Gianni Versace: American Crime Story" – 4
"Atlanta" – 3
"Last Week Tonight With John Oliver" – 3
"Queer Eye" – 3
"The Crown" – 3
"The Handmaid's Tale" – 3
"The Marvelous Mrs. Maisel" – 3
"USS Callister" ("Black Mirror") – 3
"Westworld" – 3
"Genius: Picasso" – 2
"GLOW" – 2
"James Corden's Next James Corden" – 2
"Jane" – 2
"United Shades of America" – 2
"Will & Grace" – 2
DIE GEWINNER VOM SAMSTAG
Outstanding Actor In A Short Form Comedy Or Drama Series: James Cordon ("James Cordon's Next James Cordon") (CBS) (on Snapchat)
Outstanding Actress In A Short Form Comedy Or Drama Series: Christina Pickles ("Break a Hip") (Vimeo)
Outstanding Animated Program: "Rick and Morty" ("Pickel Rick") (adult swim)
Outstanding Casting For A Comedy Series: "The Marvelous Mrs. Maisel" (Prime Video)
Outstanding Casting For A Drama Series: "The Crown " (Netflix)
Outstanding Casting For A Limited Series, Movie Or Special: "The Assassination Of Gianni Versace: American Crime Story" (FX)
Outstanding Character Voice-Over Performance: Alex Borstein ("Family Guy") (FOX)
Outstanding Children's Program: "The Magical Wand Chase: A Sesame Street Special" (HBO)
Outstanding Cinematography For A Limited Series Or Movie: "Genius: Picasso" (NatGeo)
Outstanding Cinematography For A Multi-Camera Series: "Will & Grace"
Outstanding Cinematography For A Single-Camera Series (Half-Hour): "Atlanta" (FX)
Outstanding Cinematography For A Single-Camera Series (One Hour): "The Crown" (Netflix)
Outstanding Commercial: "The Talk" – P&G – "My Black ist Beautiful"
Outstanding Contemporary Costumes: "The Assassination Of Gianni Versace: American Crime Story" (FX)
Outstanding Creative Achievement In Interactive Media Within A Scripted Program: "Westworld" – "Chaos Takes Control Interactive Experience" (HBO)
Outstanding Fantasy/​sci-Fi Costumes: "Game ot Thrones" (HBO)
Outstanding Guest Actor In A Comedy Series: Tiffany Haddish ("Saturday Night Live")
Outstanding Guest Actor In A Drama Series: Ron Chephas Jones ("This is Us") (NBC)
Outstanding Guest Actress In A Comedy Series: Katt Williams ("Atlanta") (FX)
Outstanding Guest Actress In A Drama Series: Samira Wiley ("The Handmaid's Tale") (Hulu)
Outstanding Hairstyling For A Limited Series Or Movie: "The Assassination Of Gianni Versace: American Crime Story" (FX)
Outstanding Hairstyling For A Single-Camera Series: "Westworld" (HBO)
Outstanding Individual Achievement In Animation: Juried Arwad, siehe hier
Outstanding Main Title Design: "Counterpart" (Starz)
Outstanding Makeup For A Limited Series Or Movie (Non-Prosthetic): "The Assassination Of Gianni Versace: American Crime Story" (FX)
Outstanding Makeup For A Single-Camera Series (Non-Prosthetic): "Westworld" (HBO)
Outstanding Multi-Camera Picture Editing For A Comedy Series: "Will & Grace" (NBC)
Outstanding Music Composition For A Limited Series, Movie Or Special (Original Dramatic Score): "March Of The Penguins 2: The Next Step" (Hulu)
Outstanding Music Composition For A Series (Original Dramatic Score): "Game of Thrones" (HBO)
Outstanding Music Supervision: "The Marvelous Mrs. Maisel " (Pilot) (Prime Video)
Outstanding Original Interactive Program: "NASA JPL: Cassini's Grang Finale" (YouTube)
Outstanding Original Main Title Theme Music: "Godless" (Netflix)
Outstanding Period Costumes: "The Crown" (Netflix)
Outstanding Production Design For A Narrative Program (Half-Hour Or Less): "GLOW" (Netflix)
Outstanding Production Design For A Narrative Contemporary Program (One Hour Or More): "The Handmaid's Tale " (Hulu)
Outstanding Production Design For A Narrative Period Or Fantasy Program (One Hour Or More): "Game of Thrones" (HBO
) Outstanding Prosthetic Makeup For A Series, Limited Series, Movie Or Special: "Game Of Thrones" (HBO)
Outstanding Short Form Animated Program: "Robot Chicken" ("Freshly Baked: The Robot Chicken Santa Claus Pot Cookie Freakout Special: Special Edition") (adult swim)
Outstanding Short Form Comedy Or Drama Series: "James Corden's Next James Cordon" (CBS (on Snapchat))
Outstanding Single-Camera Picture Editing For A Comedy Series: "The Marvelous Mrs. Maisel" (Prime Video)
Outstanding Single-Camera Picture Editing For A Drama Series: "The Handmaid's Tale"
Outstanding Single-Camera Picture Editing For A Limited Series Or Movie: "USS Callister" ("Black Mirror") (Netflix)
Outstanding Sound Editing For A Limited Series, Movie Or Special: "USS Callister" ("Black Mirror") (Netflix)
Outstanding Sound Editing For A Comedy Or Drama Series (One Hour): "Stranger Things" (Netflix)
Outstanding Sound Editing For A Comedy Or Drama Series (Half-Hour) And Animation: "Atlanta" (FX)
Outstanding Sound Mixing For A Comedy Or Drama Series (Half-Hour) And Animation: "Barry" (HBO)
Outstanding Sound Mixing For A Comedy Or Drama Series (One Hour): "Game of Thrones" (HBO)
Outstanding Sound Mixing For A Limited Series Or Movie: "Genius: Picasso" (NetGeo)
Outstanding Special Visual Effects: "Game of Thrones" (HBO)
Outstanding Special Visual Effects In A Supporting Role: "The Alienist" (Boy on the Bridge) (TNT)
Outstanding Stunt Coordination For A Comedy Series Or Variety Program: "GLOW" (Netflix)
Outstanding Stunt Coordination For A Drama Series, Limited Series Or Movie: "Game of Thrones" (HBO)
Outstanding Television Movie: "USS Callister" ("Black Mirror") (Netflix)
DIE GEWINNER VOM SONNTAG
Outstanding Casting For A Reality Program: "Queer Eye" (Netflix)
Outstanding Choreography: "So You Think You Can Dance" (FOX; Mandy Moore – Routines: Brand New, To Make You Feel My Love)
Outstanding Cinematography For A Nonfiction Program: "Jane" (NatGeo)
Outstanding Cinematography For A Reality Program: "Life Below Zero" (NatGeo)
Outstanding Costumes For Variety, Nonfiction Or Reality Programming: "RuPaul's Drag Race " (VH-1)
Outstanding Creative Achievement In Interactive Media Within An Unscripted Program: "Conan Without Borders" (TBS)
Outstanding Directing For A Variety Series: "Saturday Night Live " (NBC)
Outstanding Directing For A Documentary/​nonfiction Program: "Jane" (NatGeo)
Outstanding Directing For A Reality Program: "RuPaul's Drag Race " (VH-1)
Outstanding Documentary Or Nonfiction Series: "Wild Wild Country" (Netflix)
Outstanding Documentary Or Nonfiction Special: "The Zen Diaries of Gary Shandling" (HBO)
Outstanding Exceptional Merit In Documentary Filmmaking: "Strong Island" (Netflix)
Outstanding Hairstyling For A Multi-Camera Series Or Special: "RuPaul's Drag Race" (VH-1)
Outstanding Host For A Reality Or Reality-Competition Program:RuPaul ("RuPaul's Drag Race ") (VH-1)
Outstanding Informational Series Or Special: "Anthony Bourdain: Parts Unknown" (CNN)
Outstanding Innovation In Interactive Programming: (dieses Jahr kein Emmy vergeben)
Outstanding Interactive Program: "Last Week Tonight with John Oliver" (HBO)
Outstanding Lighting Design/​lighting Direction For A Variety Series: "Saturday Night Live " (NBC)
Outstanding Lighting Design/​lighting Direction For A Variety Special: "Jesus Christ Superstar Live In Concert" (NBC)
Outstanding Makeup For A Multi-Camera Series Or Special (Non-Prosthetic): "Saturday Night Live" (NBC)
Outstanding Motion Design: (Juried Arwad, siehe hier) Outstanding Music Direction: "Tony Bennett: The Library Of Congress Gershwin Prize For Popular Song" (PBS)
Outstanding Original Music And Lyrics: "Saturday Night Live" (NBC) (Host: Chance The Rapper /​ Song Title: Come Back Barack)
Outstanding Narrator: Sir David Attenborough ("Blue Planet II") (BBC America)
Outstanding Picture Editing For A Structured Or Competition Reality Program: "Queer Eye" (Netflix)
Outstanding Picture Editing For An Unstructured Reality Program: "United Shades Of America With W. Kamau Bell" (CNN)
Outstanding Picture Editing For A Nonfiction Program: "Anthony Bourdain: Parts Unknown " (CNN)
Outstanding Picture Editing For Variety Programming: "Last Week Tonight With John Oliver" (HBO)
Outstanding Production Design For Variety, Reality Or Reality-Competition Series: "Saturday Night Live " (NBC)
Outstanding Production Design For Variety Special: "Jesus Christ Superstar Live In Concert" (NBC)
Outstanding Short Form Nonfiction Or Reality Series: "Anthony Bourdain: Explore Parts Unknown" (CNN/​CNN.com)
Outstanding Short Form Variety Series: "Carpool Karaoke: The Series" (Apple Music)
Outstanding Sound Editing For A Nonfiction Program (Single Or Multi-Camera): "Anthony Bourdain: Parts Unknown" (CNN)
Outstanding Sound Mixing For A Variety Series Or Special: "Jesus Christ Superstar Live In Concert " (NBC)
Outstanding Sound Mixing For A Nonfiction Program: "Anthony Bourdain: Parts Unknown" (CNN)
Outstanding Structured Reality Program: "Queer Eye" (Netflix)
Outstanding Technical Direction, Camerawork, Video Control For A Limited Series, Movie Or Special: "Jesus Christ Superstar Live In Concert " (NBC)
Outstanding Technical Direction, Camerawork, Video Control For A Series: "Saturday Night Live" (NBC)
Outstanding Unstructured Reality Program: "United Shades of America with W. Kamau Bell" (CNN)
Outstanding Variety Special (Live): "Jesus Christ Superstar Live in Concert" (NBC)
Outstanding Variety Special (Pre-Recorded): Dave Chapelle "Equanimity" (Netflix)
Outstanding Writing For A Variety Series: "Last Week Tonight With John Oliver" (HBO)
Outstanding Writing For A Nonfiction Program: "Anthony Bourdain: Parts Unknown " (CNN)