73. Emmy Awards: Krönungszeremonie für "The Crown"
Netflix sichert sich Gesamtsieg bei den Emmys 2021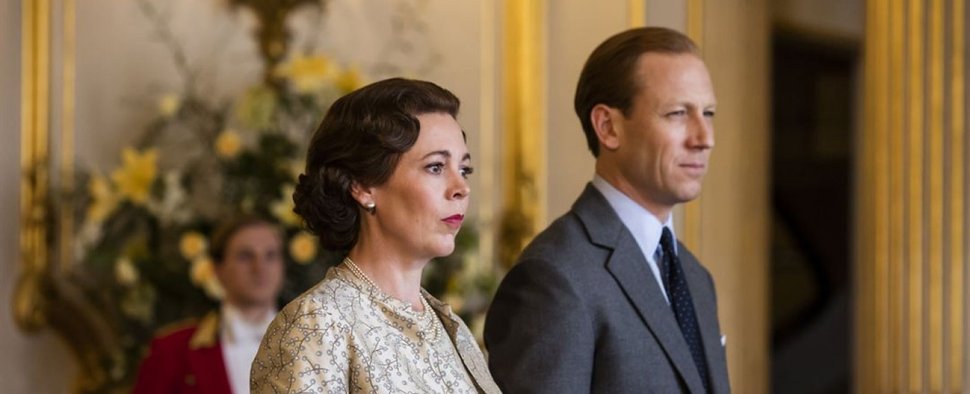 In der Nacht zum Montag wurden in den USA die verbleibenden Gewinner der 73. Emmy Awards bekannt gegeben. Der große Gewinner des Abends war "The Crown", das alle sieben verbleibenden Drama-Kategorien für sich entschied. Ebenfalls zu mehrfachen Ehren kamen die Comedyserie "Ted Lasso" und "Hacks" sowie die Miniserien "Das Damengambit" (OT: "The Queen's Gambit") und "Mare of Easttown".
(Der Pay-TV-Sender TNT Serie hat die Verleihung in den deutschsprachigen Raum live übertragen und zeigt am Montag ab 20:15 Uhr nochmals eine zweistündige Zusammenfassung.)
Somit gehörten die Disney-Serien "The Mandalorian" und "WandaVision" zu denjenigen, die trotz herausragender Anzahl an Nominierungen bei der Verleihung in der Nacht in die Röhre guckten. Auch das in zahlreichen Schauspieler-Kategorien vertretene "The Handmaid's Tale" von hulu ging bei der Enthüllung der 27 verbliebenen Kategorien leer aus. Ebenfalls ohne weitere Trophäe blieb "Pose" für seine letzte Staffel. Auch "Lovecraft Country" und insbesondere der kürzlich verstorbene Michael K. Williams blieben bei der aktuellen Veranstaltung ungekrönt (Williams' Tod war nach Beendigung der Stimmabgabe bekannt geworden). Ebenfalls ungeehrt blieben die finalen Staffeln von "Mom" und "Conan".
Letztendlich konnte sich "The Crown" die meisten Drama-Kategorien sichern: Herausragende Dramaserie, beste Hauptdarstellerin, bester Hauptdarsteller, beste Nebendarstellerin, bester Nebendarsteller sowie bestes Drehbuch und beste Regie für die Folge "War" aus der vierten Staffel. Bei den Comedyserien teilten sich "Hacks" (Hauptdarstellerin, Drehbuch, Regie) und "Ted Lasso" (herausragende Comedyserie, Hauptdarsteller, Nebendarsteller, Nebendarstellerin) die Ehren. Bei den Miniserien teilten sich vor allem "Das Damengambit" (beste Serie, beste Regie) und "Mare of Easttown" (Hauptdarstellerin, Nebendarsteller, Nebendarstellerin) in der Nacht zum Montag die Beute, wobei Michaela Coel sich für "I May Destroy You" die Ehre für das herausragende Drehbuch sicherte (sie hatte die komplette Serie im Alleingang geschrieben).
Die 73. Primetime Emmys: Nominierung vs. Auszeichnungen
Insgesamt ist Netflix aus den 73. Primetime Emmy Awards nach Zählung von TV Line mit 44 Auszeichnungen klar als Sieger herausgegangen – dem gegenüber standen 129 Nominierungen. HBO und Streaming-Schwester HBO Max waren gemeinsam auf 130 Nominierungen gekommen (94 für HBO-Formate, 36 für HBO-Max-Formate) und konnten 19 Auszeichnungen erringen, Disney+ brachte es auf 14 Emmys (bei 71 Nominierungen) und Apple TV+ fuhr 10 Auszeichnungen ein (34 Nominierungen).
Insgesamt über alle vier Emmy-Preisverleihungsveranstaltungen 2021 (Gewinnerliste von Veranstaltung 1; Gewinnerliste der Veranstaltungen 2 und 3) fuhr "The Crown" 11 Emmy Awards ein (bei 24 Nominierungen, dabei in manchen Kategorien aber auch mehrfach). Das ebenfalls 24-fach nominierte "The Mandalorian" bringt es insgesamt auf 7 Emmy aus den früheren Veranstaltungen, darunter alle beide Stunt-Emmys (Stunt Coordination und Stunt-Performer). "The Queen's Gambit" machte aus seinen 18 Nominierungen 11 Gewinne.
Am unteren Ende finden sich "WandaVision", das bei 23 Nominierungen nur 3 Emmy holen konnte, "Lovecraft Country" (2 Emmys bei 18 Nominierungen) sowie "The Handmaid's Tale": Null Emmys im Jahr 2021 bei 21 Nominierungen. Laut Deadline ist das ein neuer Rekord für "nicht gewonnene Emmys": Im Jahr 2012 war "Mad Men" mit 17 Nominierungen ohne Gewinn bisheriger "Rekordhalter".
Die Emmy-Gewinner der Galaveranstaltung der Primetime Emmys 2021
Beste Comedyserie:
Bester Hauptdarsteller in einer Comedyserie:
Beste Hauptdarstellerin in einer Comedyserie:
Bester Nebendarsteller in einer Comedyserie:
Beste Nebendarstellerin in einer Comedyserie:
Bestes Drehbuch für eine Comedyserie:
"The Flight Attendant" – In Case Of Emergency (Pilotfolge) (Steve Yockey)
"Girls5eva" – Pilot (Meredith Scardino)
GEWINNER: "Hacks" – There Is No Line (Pilot) (Lucia Aniello, Paul W. Downs, Jen Statsky)
"Pen15" – Play (2x06) (Maya Erskine)
"Ted Lasso" – Make Rebecca Great Again (1x07) (Jason Sudeikis, Brendan Hunt, Joe Kelly)
"Ted Lasso" – Pilot (Jason Sudeikis, Bill Lawrence, Brendan Hunt, Joe Kelly)
Beste Regie für eine Comedyserie:
"B Positive" – Pilot (James Burrows)
"The Flight Attendant" – In Case Of Emergency (Pilotfolge) (Susanna Fogel)
GEWINNER: "Hacks" – There Is No Line (Pilotfolge) (Lucia Aniello)
"Mom" – Scooby-Doo Checks And Salisbury Steak (8x16) (James Widdoes)
"Ted Lasso" – Biscuits (1x02) (Zach Braff)
"Ted Lasso" – The Hope That Kills You (1x10) (MJ Delaney)
"Ted Lasso" – Make Rebecca Great Again (1x07) (Declan Lowney)
Beste Dramaserie:
Bester Hauptdarsteller in einer Dramaserie:
Beste Hauptdarstellerin in einer Dramaserie:
Bester Nebendarsteller in einer Dramaserie:
Beste Nebendarstellerin in einer Dramaserie:
Bestes Drehbuch für eine Dramaserie:
"The Boys" – What I Know (2x08) (Rebecca Sonnenshine)
GEWINNER: "The Crown" – War (4x10 )(Peter Morgan)
"The Handmaid's Tale" – Home (4x07) (Yahlin Chang)
"Lovecraft Country" – Sundown (Pilotfolge) (Misha Green)
"The Mandalorian" – Chapter 13: The Jedi (2x05) (Dave Filoni)
"The Mandalorian" – Chapter 16: The Rescue (2x08) (Jon Favreau)
"Pose" – Series Finale (3x08) (Ryan Murphy, Brad Falchuk, Steven Canals, Janet Mock, Our Lady J)
Beste Regie für eine Dramaserie:
"Bridgerton" – Diamond Of The First Water (Pilotfolge) (Julie Anne Robinson)
"The Crown" – Fairytale (4x03) (Benjamin Caron)
GEWINNER: "The Crown" – War (4x10) (Jessica Hobbs)
"The Handmaid's Tale" – The Wilderness (4x10) (Liz Garbus)
"The Mandalorian" – Chapter 9: The Marshal (2x01) (Jon Favreau)
"Pose" – Series Finale (3x08) (Steven Canals)
Beste Mini- oder Anthologieserie:
Bester Hauptdarsteller in Miniserie /​ Fernsehfilm:
Beste Hauptdarstellerin in Miniserie /​ Fernsehfilm:
Bester Nebendarsteller in Miniserie /​ Fernsehfilm:
Beste Nebendarstellerin in Miniserie /​ Fernsehfilm:
Bestes Drehbuch für eine Miniserie /​ Fernsehfilm:
GEWINNER: "I May Destroy You" (Michaela Coel)
"Mare Of Easttown" "Brad Ingelsby"
"The Queen's Gambit" (Scott Frank)
"WandaVision" – All-New Halloween Spooktacular! (1x06) (Chuck Hayward, Peter Cameron)
"WandaVision" – Filmed Before A Live Studio Audience (Pilotfolge) (Jac Schaeffer)
"WandaVision" – Previously On (1x08) (Laura Donney)
Beste Regie bei einer Miniserie /​ Fernsehfilm:
"Hamilton" (Thomas Kail)
"I May Destroy You" – Ego Death (1x12) (Sam Miller & Michaela Coel)
"I May Destroy You" – Eyes Eyes Eyes Eyes (Pilotfolge) (Sam Miller)
"Mare Of Easttown" (Craig Zobel)
GEWINNER: "The Queen's Gambit" (Scott Frank)
"The Underground Railroad" (Barry Jenkins)
"WandaVision" (Matt Shakman)
Beste Reality-Competition:
Beste Variety-Sketchshow:
"A Black Lady Sketch Show"
GEWINNER: "Saturday Night Live"
Bestes Variety-Special (Live)
"Celebrating America – An Inauguration Night Special"
"The 63rd Annual Grammy Awards"
"The Oscars"
"The Pepsi Super Bowl LV Halftime Show Starring The Weeknd"
GEWINNER: "Stephen Colbert's Election Night 2020: Democracy's Last Stand Building Back America Great Again Better 2020"
Bestes Variety-Special (aufgezeichnet)
"Bo Burnham: Inside"
"8:46 – Dave Chappelle"
"Friends: The Reunion"
GEWINNER: "Hamilton"
"A West Wing Special To Benefit When We All Vote"
Beste Variety-Talkshow:
Bestes Drehbuch für eine Variety-Serie
"The Amber Ruffin Show"
"A Black Lady Sketch Show"
"Last Week Tonight With John Oliver"
"The Late Show With Stephen Colbert"
"Saturday Night Live"