International Emmys: "Charité" und Emma Bading für Deutschland nominiert
Zwei Produktionen für Das Erste im Rennen um internationale Ehren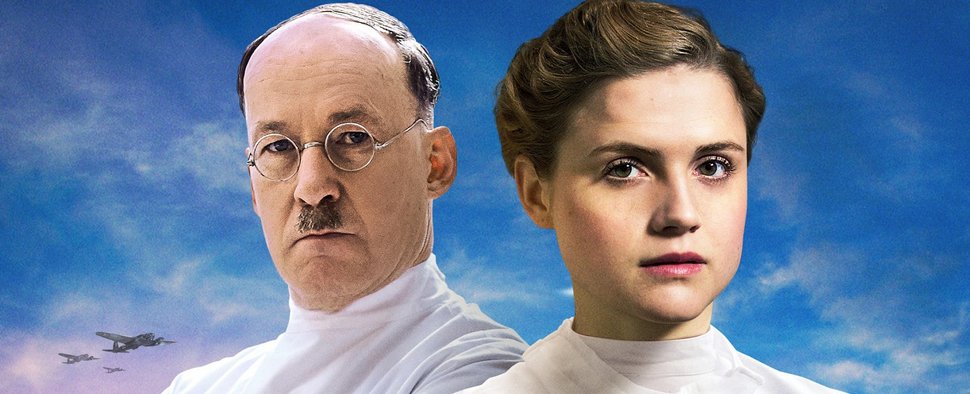 Die International Academy of Television Arts & Sciences hat die Nominierungen für die 48. International Emmy Awards verkündet. Deutschland ist dabei in diesem Jahr wieder mit zwei Nominierungen vertreten.
Zum einen mit der zweiten Staffel von "Charité" von UFA Fiction, die sich um die Geschichte des Berliner Krankenhauses im Dritten Reich dreht; zum anderen ist Emma Bading für ihre Leistung im Fernsehfilm "Play" nominiert, in dem sie eine junge Frau spielt, die sich in krankhafter Weise ins Virtual-Reality-Game Avalonia stürzt. Beide Formate wurden 2019 im Ersten gezeigt.
Vergeben werden die internationalen Emmy-Auszeichnungen wie jedes Jahr im November, genauer gesagt diesmal am 23. November. Normalerweise erfolgt die Vergabe der International Emmy Award im Rahmen des The International Emmy World Television Festival in New York City. In diesem Jahr wird man allerdings wohl auf eine Präsenzveranstaltung verzichten.
Für die 48. International Emmy Awards wurden insgesamt 44 Nominierungen in elf Kategorien an Teilnehmer aus Argentinien, Australien, Belgien, Brasilien, China, Deutschland, Frankreich, Indien, Israel, Italien, Japan, Kolumbien, Norwegen, Portugal, Singapur, Südkorea, Thailand, Tschechien, die USA sowie das Vereinigte Königreich vergeben.
Arts Programming
"Jake and Charice" (NHK; Japan)
"Refavela 40" (HBO Brasil/​Conspiração; Brasilien)
"Vertige de la Chute" aka "Ressaca" (Babel Doc/​France Televisions; Frankreich)
"Why do we dance?" (Sky Arts Production Hub; U.K.)
Best Performance by an Actor
Best Performance by an Actress
Emma Bading in "Play" (Sappralot Productions/​Tellux Next/​BR/​ARD Degeto; Deutschland)
Andréa Beltrão in "Hebe" (Globo/​20th Century Fox Brazil/​Hebe Forever/​Labrador Filmes/​Loma Filmes/​Warner Bros.; Brasilien)
Glenda Jackson in "Elizabeth is Missing" (STV Productions; U.K.)
Yann Yann Yeo in "Invisible Stories" (HBO Asia/​Birdmandog; Singapore)
Comedy
"Back to Life" (SHOWTIME Presents/​Two Brothers Pictures; U.K.)
"Fifty" (EndemolShine Israel; Israel)
"Four More Shots Please" (Pritish Nandy Communications Limited; Indien)
"Ninguém tá Olhando" aka "Keiner wacht" (Gullane Entertainment/​Netflix; Brsilien)
Documentary
"El Testigo" aka "The Witness" (Caracol Television; Kolumbien)
"For Sama" (Channel 4 News/​ITN Productions/​PBS Frontline; U.K.)
"Granni-E-minem" (Korean Broadcasting System; Südkorea)
"Terug naar Rwanda" aka "Back to Rwanda" (De Chinezen/​VRT; Belgien)
Drama
"Charité" (Staffel 2) (UFA Fiction; Deutschland)
"Criminal" (UK) (Idiotlamp Productions/​Netflix; U.K.)
"Delhi Crime" (Ivanhoe Pictures/​Golden Karavan/​Poor Man's Productions/​Netflix; Indien)
"El Jardín de Bronce" aka "The Bronze Garden" (Staffel 2) (HBO Latin America Originals/​Pol-ka; Argentinien)
Non-English Language U.S. Primetime Program
20th Annual Latin GRAMMY Awards (Univision/​The Latin Recording Academy; U.S.)
"La Reina del Sur" aka "Königin des Südens" (Staffel 2) (Telemundo Global Studios/​Netflix/​AG Studios Colombia/​Diagonal TV/​Argos; U.S.)
"No te Puedes Esconder" (Telemundo Global Studios/​Netflix; U.S.)
"Preso No.1" (Telemundo Global Studios/​Keshet; U.S.)
Non-Scripted Entertainment
"Canta Comigo" (Rádio e Televisão Record S.A./​Endemol Shine; Brasilien)
"Folkeopplysningen" aka "The Public Enlightenment" (Teddy TV; Norwegen)
"MasterChef Thailand" (Staffel 3) (Heliconia H Group Company Limited; Thailand)
"Old People's Home for 4 Year Olds" (Endemol Shine Australia; Australia)
Short-Form Series
"Content" (Ludo Studio; Australia)
"#martyisdead" (Bionaut/​MALL.TV/​cz.nic; Tschechien)
"Mil Manos por Argentina" aka "One Thousand Hands for Argentina" (Storylab/​Atomic Lab/​Flow; Argentinien)
"People Like Us" (Staffel 2) (Action for AIDS Singapore/​Cheo Pictures/​Pilgrim Pictures; Singapur)
Telenovela
"Chen Xi Yuan" aka "Love And Destiny" (Gcoo Entertainment Co. Ltd./​iQIYI; China)
"Na Corda Bamba" aka "On Thin Ice" (Plural Entertainment Portugal; Portugal)
"Órfãos da Terra" aka "Orphans of a Nation" (Globo; Brasilien)
"Pequeña Victoria" aka "Victoria Small" (Viacom International Studios/​Oficina Burman; Argentinien)
TV Movie/​Miniseries
"L'Effondrement" aka "The Collapse" (ET BIM/​Studio Plus/​Canal Plus; Frankreich)
"Elis – Viver é Melhor que Sonhar" (Globo/​Globo Filmes/​Bravura Cinematografica/​Academia de Filmes; Brasilien)
"The Festival of the Little Gods" (Tohoku Broadcasting; Japan)
"Responsible Child" (Kudos/​72 films; U.K.)
Kommentare zu dieser Newsmeldung